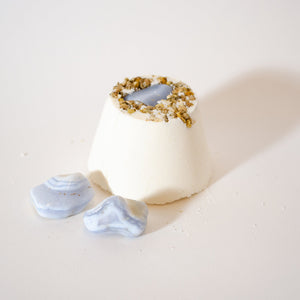 Blue Lace Agate Bath Bomb w/ Organic Coconut Oil
Regular price
Sale price
$30.00
---
*Clary Sage and Bergamot Blue Lace Agate Bath Bomb *
Own your truths and speak them freely with this soothing and supportive Blue Lace Agate Bath Bomb.
We've specifically paired a Blue Lace Agate crystal with clary sage and bergamot essential oils, yellow Brazilian clay, and chamomile flowers to stimulate and deepen your connection to the Throat Chakra located in your upper body/throat area. These colors and scents coupled with the stone stimulate the "I speak" mantra and attitude!
Like all of our bath bombs, this is carefully created from all-natural ingredients such as Organic Coconut Oil, Essential oils and only the use of herbs, clays and flowers for colorants.
*Crystal Properties:
~Blue lace agate is a useful communication aid as it encourages calm, focus and self discovery to identify and express your truths. It dissolves worry and helps release the grip of any unwanted energy around you so that you feel supported as you move through any suppressed emotion or painful blockages. It provides peace of mind, boosts confidence, and supports you in articulating your point of view without judgement. It also amplifies the energy of positive affirmations and deepens the connection to your higher self and beyond. This stone is great for public speakers, caregivers, therapists and anyone practicing energy work.~
*How to Use:
- Draw yourself a nice warm bath
- Prepare your perfect setting by grabbing a cup of tea, playing soothing music, lighting candles or incense, dimming the lights, etc
- Hold the bath bomb in your hands and get excited about the energy that the crystal brings and any intentions you've set
- Drop your bath bomb into the tub and ease your way in making sure not to step or sit on your crystal
- Relax and breathe deeply imagining your body soaking up all the beautiful energy from the crystal and essential oils
- Soak for as long as you'd like
- When finished and exiting the bath be sure to remove your stone before draining
- Pat dry to keep coconut oil on your skin after bath
- As you are drying and the bath water is draining, visualize all things that don't serve you being dried or wash away down the drain
- Take a moment to say "Thank you" for this experience and carry the amazing feeling with you for the rest of your day
-Treating yourself to a crystal bath once a month is a great way to maintain balance in your physical, emotional, and mental body.
*Post-Bath Crystal Care and Use:
- Be sure to thoroughly dry your crystal with a soft towel after the bath
- You may place it near your throat, in your pocket or meditative space, or wherever your heart desires!
Ingredients: Blue Lace Agate Crystal, Baking Soda, Corn Starch, Chamomile Flowers, Citric Acid, Epsom Salt, Organic Coconut Oil, Water, Clary Sage Essential Oil, Bergamot Essential Oil, Yellow Brazilian Clay
*Storage: Bath bombs keep the longest in an air tight container.
*Pat dry after bath to keep hydrating coconut oil on your skin.*
*TUB MAY BE SLIPPERY AFTER USE*
---